Invoicing & Billing
Project Invoicing & Billing - Ultimate Guide for Freelancers and Small Businesses
The best tips for project invoicing and billing for small businesses and freelancers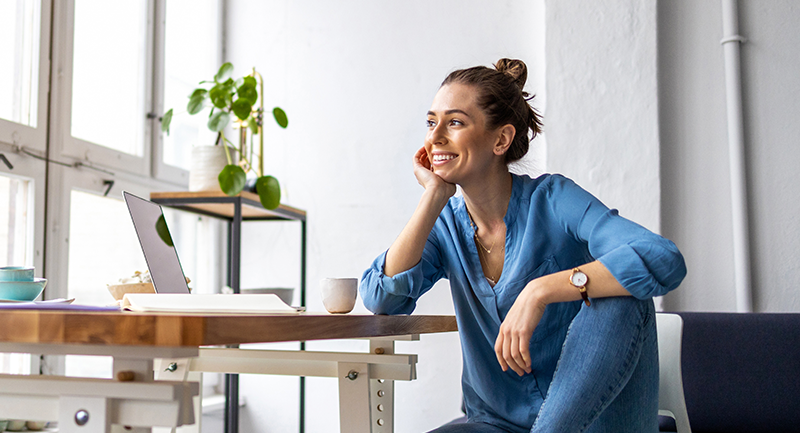 As a freelancer or a small business owner, you can often feel as though there is a lot to consider. Your main focus is on running your business operations because it's vital that you generate turnover. Additionally, you'll spend time communicating with clients or managing staff. All this can leave you with little time to handle project invoicing & billing.
However, it's crucial that you actively manage your project invoicing & billing. This is down to the fact that once you lose control, you'll have no idea who owes you money and who doesn't. Essentially, without the right tools in place, you could be struggling to manage the most critical part of your business. So, the aim of this article is to help you understand all about project billing and how to get it right, regardless of whether you are a freelancer or a small business owner.
Why is Invoicing and Billing so Important?
Your success as a freelancer or a small business owner relies on the money you earn. It's only right and fair that your client pays you for the work you do. However, the money you earn is all dependent on your project invoicing & billing.
If you allow invoices and billing to spiral out of control, you could lose money. Therefore, it's vital that you track time, track billable hours and invoice correctly. All of this can prove challenging and it's one of those jobs you might despise, regardless of how important it is. Anyhow, it's a task that you need to get right.
Sending invoices and billing clients correctly is really important. Firstly, it helps to create a professional image for you and your business. Secondly, it ensures you invoice correctly, and finally, it's the only way of making sure you receive the pay you deserve.
It can seem too easy to focus on generating work and building client relationships. After all, money coming in is what makes you a success. If you don't spend time attracting clients, you won't generate money, but this is a vicious cycle. You can have many clients but if you don't invoice them correctly, you will lose money.
Generating invoices manually is a painstaking task. It takes time, it's frustrating and when you're doing it, you're not earning money. However, new tools make it easy for you to manage invoicing and billing. Through automation, the process becomes seamless and efficient, giving you more time to focus on your business. A great option for freelancers and small businesses looking to automate their entire invoicing and billing process is the Heeros Small Business Software. The best thing about the software is that it's completely free!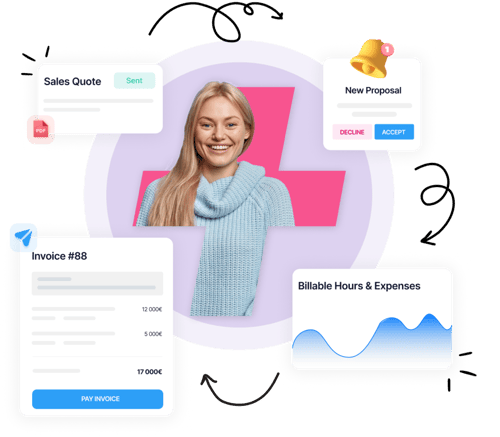 The Importance of Taking Control of Project Invoicing & Billing
Did you know that you could lose clients by not taking control of project invoicing & billing? Your clients will expect you to send an invoice on time. They expect a payment due date and an invoice that contains billable hours. After all, they have to pay you and they want to do so. If you make things difficult for them and slow down their processes, client relationships could suffer. As a result, you might find that you lose the relationship, all because you didn't focus on managing invoicing and billing correctly.


Billing and Invoicing Options - How Do You Bill a Project?
When it comes to project invoicing & billing, there are a number of options available. Naturally, you are going to want to make sure you cover your costs as a freelancer or a small business. Therefore, you have the ability to charge by the hour or through a flat fee. You will need to choose a charging method that ensures you make a profit. This will enable you to reach your target salary. With this in mind, it's important to understand the differences between charging a flat fee and billing by the hour.
The Flat Fee - When you opt to charge a flat fee, the price you charge for a service will always be the same. This is irrespective of how many hours you work on a project. You will need to make sure that this flat fee always covers your costs and generates a profit for you.
Hourly Rate - As you have guessed, this involves charging by the hour. Therefore, when the time comes to send an invoice, you will have to include the hours worked. This will then be tied in with the hours you work on the project. Eventually, this will provide a total price for the job that you complete.
You can attempt to monitor hours or your fee, but there are challenges involved. Additionally, when you focus on your work, you can lose focus on what you should be charging for it. However, if you use online tools to track time spent on tasks, you'll have more confidence when it comes to billing your clients. Heeros Small Business Software automates time tracking, expense management, and invoicing processes, so you can watch your business grow while getting paid faster.
Charging a Flat Rate as a Small Business or Freelancer
If you have plans to charge a flat fee, you will need to do the following:
Estimate the time it will take - You will need to consider all the time you will take to work on the project, but also the time you will need to spend on administration.
Define Variable - Not every project is the same. Therefore, you'll need to ensure that you can price your project around the variables that you set out. Every project will have different elements that require more time, input and commitment. So, make sure you include project differences in the price you offer your client.
Stick to Your Set Price - Once you decide on the price of the work, stick to it. You can negotiate but you need to ensure you cover costs and expenses. You should not reduce the price through negotiations to the point where you fall short of your target income.
When you charge a flat rate, it keeps things simple. However, if your business grows, more variables will be apparent in your projects. As a result, you might want to consider an hourly rate.
Charging an Hourly Rate as a Small Business or Freelancer
If flexibility is what you look for, then you might want to charge an hourly rate when doing project invoicing & billing. This payment method gives you greater scope to cover the extra work you do.
You'll need to calculate your annual income and the hourly rate you will charge. Once you do this, you will need to make sure you charge for the hours you work.
Create a Billing Template - If you use a template, you can manage your time better. This will help you to speed up your billing process. Cover the working days of the week, start and end times as well as breaks. You should include overtime hours and your regular hours too.
Monitor Billable Hours - When you use billing templates, they'll assume that every hour is billable. However, you'll need to make it clear which hours are billable and ones that you will charge clients. You could work 100 hours in a month, which might be billable time, but what about other tasks such as admin? These would be non-billable hours and hours you will not charge for. Using a platform that helps you to monitor billable hours will ensure you invoice correctly and get paid for what you do.
On the Heeros Small Business Software, you can easily create specific hourly rates for accounts and projects, and make sure you get paid for every logged hour.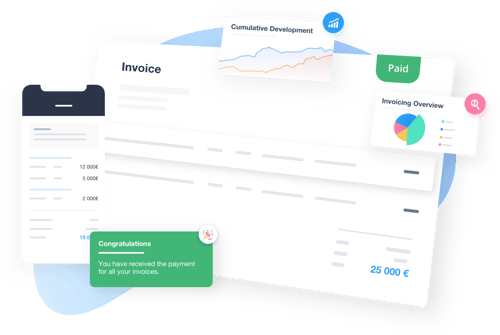 How Do You Bill Hourly?
If you bill by the hour, you can be more flexible with the billing process. Therefore, you can work it to fit your needs.
You will have the freedom to round up your time. If you work on a call that lasts 49 minutes, round it up to one hour. One thing to remember is that you cannot charge for a mistake you make. Let your client know that you will rectify the issue at no additional cost.
In addition to this, if you will track time on tasks that clients are unaware of, let them know. Transparency is vital when it comes to project invoicing & billing. Finally, clients will want to know about what you charge. So, make sure you clarify everything in your invoice. Whether it's time spent on emails or calls, track everything and you'll make life easier for you and your client.


What Are the Different Types of Invoices?
You might not be aware but there are a number of different invoices available.
Standard Invoice - This is the most common type of invoice that is sent to a client. It will include the business name, the client's name and an invoice number along with how much money the client owes.
Credit Invoice - A freelancer or small business will issue this invoice when a client is owed a discount or refund. The invoice will always include a negative total number.
Debit Invoice - This is commonly sent when a client owes more money. Freelancers will then be able to adjust the invoice to reflect the hours they work on a project.
Commercial Invoices - Small businesses might choose to use these kinds of invoices. It will include the costs associated with goods that are purchased. It will include the quantity, volume, description of goods, value and the packaging type.
Billable Invoice - This is commonly used by freelancers, although small businesses can use it too. The invoice will include the billable hours and the rate they charge per hour.
Pro Forma Invoice - Freelancers might not be able to provide an exact cost for a project. Therefore, a pro forma invoice will state an estimated price, but might need to be altered once the freelancer completes the project.
Recurring Invoice - Where freelancers or small businesses charge a client regularly, a recurring invoice can be the right option. If a client uses a regular service such as IT support, then a recurring invoice is the right option.


What is the Procedure for Invoicing?
When it comes to project invoicing & billing, you'll need to inform clients about the billing process. You should avoid catching them unaware of what to expect. As a result, there should be no surprises in your invoice.
At this point, clients should be aware of whether you charge billable hours or a flat rate. As project manager, you should also tell them how you will structure the invoice. This includes how the invoice will display the work you do, such as a breakdown of hours or time spent on certain tasks. If you inform your clients, they will have an instant understanding of what to expect.
Discuss your invoice and how you approach project billing with your client. Set out your payment terms and when you will invoice. If the project spans a long period, perhaps you can agree to invoice weekly, monthly or quarterly. You'll then need to inform them of how long they will have to pay. This is important as it helps to avoid any problems when doing project invoicing & billing.
So, you might wonder when you should send your invoice. If you have not agreed on when you will invoice (weekly or monthly), it should be done when the work is complete. To do this, the easiest way to invoice is to send it electronically.
Online invoicing is fast and efficient. It ensures that the invoice is sent directly to the email account of your point of contact. However, the main thing to remember is that you should send your invoice as soon as possible. This is where a tool that assists with project invoicing & billing can save a lot of time and effort.
With Heeros Small Business Software, you can create invoices in seconds. You can also download the Heeros mobile app to stay on top of your invoicing, no matter where you are. The app makes invoicing on the go simple and everything is automatically synced across all your devices.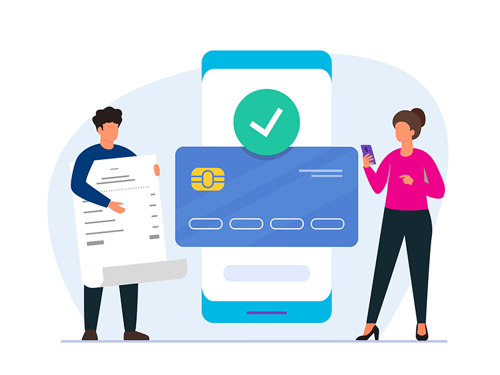 After You Send The Invoice
After the invoice has been sent, you should make sure it has been received. This might not be common practice with ongoing clients, but it is with a new client. Give them a call to ensure they have received it and that they understand the charges in it. Furthermore, you can also ask if they require any further details from you.
Don't just assume that they will pay the invoice quickly either. Some clients might wait until the end of the payment period to pay it. As a result, there is no harm in sending them reminders when the due date is close. Make sure your email is polite and avoid being aggressive.


How Do You Write A Project Invoice?
The main thing to consider when you write an invoice is that you have to ensure it is clear. Your client must be able to see the information clearly and understand it easily.
However, your invoice should be personal to you, so begin by adding branding. This could be a logo or colour to give a professional look and feel.
Make sure you add your contact information and your client's information to the invoice. This will include your address and other contact information as well as who the invoice is for. Next, you should select a due date that reflects the agreement you have with your client. In order to keep track of invoices, add an invoice number, as this is always useful should you need to track payments.
Now complete the important information, including your hours worked and what the project was. This will all depend on whether you charge a flat rate or an hourly rate. Either way, you should itemise every hour worked when doing project invoicing & billing.
Finally, you want to make sure you receive payment. Therefore, your invoice should contain your chosen payment method. This will help them to instantly understand how to get your payment to you.
If you have to add tax such as VAT, then you should also make sure to include this. If this is the case, you will also have to clearly state your VAT number.
You can also try the free invoice template from Heeros to see how this can be done in practice. The template is free to download, customizable, and Excel-based.
Download Free Invoice Template
Make Payments Easy For Your Clients
Unfortunately, there is always a risk that a client might not pay after. However, when project invoicing & billing, it is important to make the process as easy as possible. Make sure you opt to use a payment method that is accessible. This could be a simple bank account number and sort code. You might also choose to use a payment platform such as Paypal. Whatever you choose, make sure you provide the right option for your clients.
You could offer benefits for those that pay early, such as a small discount. In contrast to this, you should also make penalties for late payments clear. If the project is large and ongoing, you could ask for a partial payment upfront. This shouldn't be a problem for your client as it should prove that you are serious about the project. Furthermore, it will help to cover any initial costs or expenses.
Finally, if you build good client relationships, they're more likely to pay on time. Be friendly when communicating and do as much as possible to adhere to their requests.


Conclusion
As a freelancer or a small business, invoicing and billing can seem like a challenge, from finding the time to create and send invoices to handling client issues. However, if you make sure that everything is precise and you use an online invoicing tool, you'll find that you encounter fewer problems. In addition to this, you will also find that invoicing will become a seamless experience that fits around you and your business.

Try Heeros' free invoicing software now and see how you can simplify work!
We would like to hear our reader's opinions, suggestions, and feedback on the "Project Invoicing & Billing - Ultimate Guide for Freelancers and Small Businesses" article we wrote. Do you have any questions that we did not cover in this blog post? Have you previously used any online tools to manage invoicing and billing?
Get in touch with us and we will make sure your questions get answered. If you like our article, please share the love by following our social media on Linkedin or Facebook, or Twitter. As always, keep calm, and stay tuned for great upcoming news!