Sales and invoicing software for small businesses
Manage your entire sales pipeline from leads to closed deals. Handle quotes, invoicing, expenses, time tracking, and more in one platform.
Send your first invoice in 3 min - Try for free!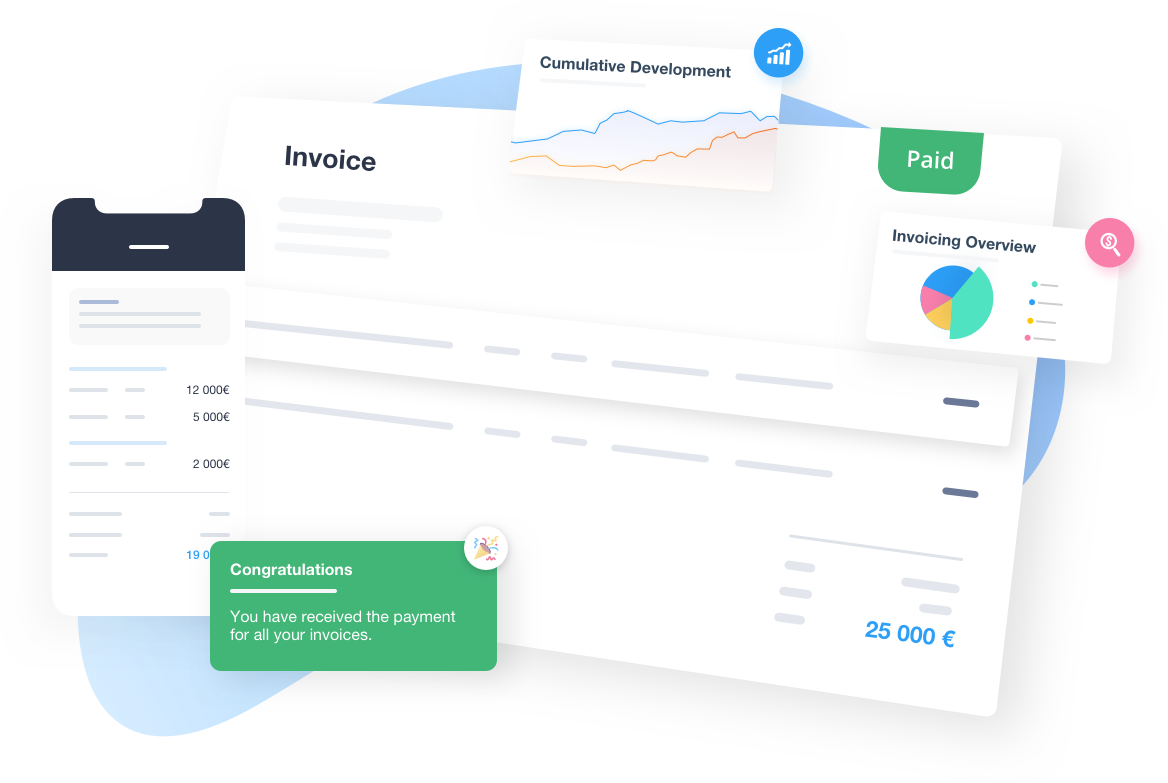 Work smarter, not harder.
Unify your sales and invoicing processes

Get rid of tedious paperwork, manual sales processes, and fragmented software.
Features Overview
All the features in Taimer's Free Plan are integrated seamlessly with one another and easily accessible from the centralized software.
Sales Pipeline
Create customizable pipelines
Add your leads and monitor their progress across different stages of the sales pipeline.
Schedule sales activities
Follow up on your team's sales activities, get performance reports, and never miss deadlines.
360° visual overview of sales
Get advanced insights on your entire sales function, including invoices, hours, and more.
Team collaboration
Project messenger
Taimer automatically generates project threads for all team members so they can collaborate and share project-specific details.
Permissions & access rights.
Synchronize memos, and share documents and files.
Invoicing & Billing
Create and send invoices automatically
You can invoice recurring & scheduled invoices, services, products, hours, bills, and expenses.
Simplify invoicing & Manage bills
Utilize automatic invoice generation and insights, as well as estimates for the past and upcoming months. Manage all bills with a real-time view of project costs
Flexible delivery
Save invoices in PDF format and send them via email.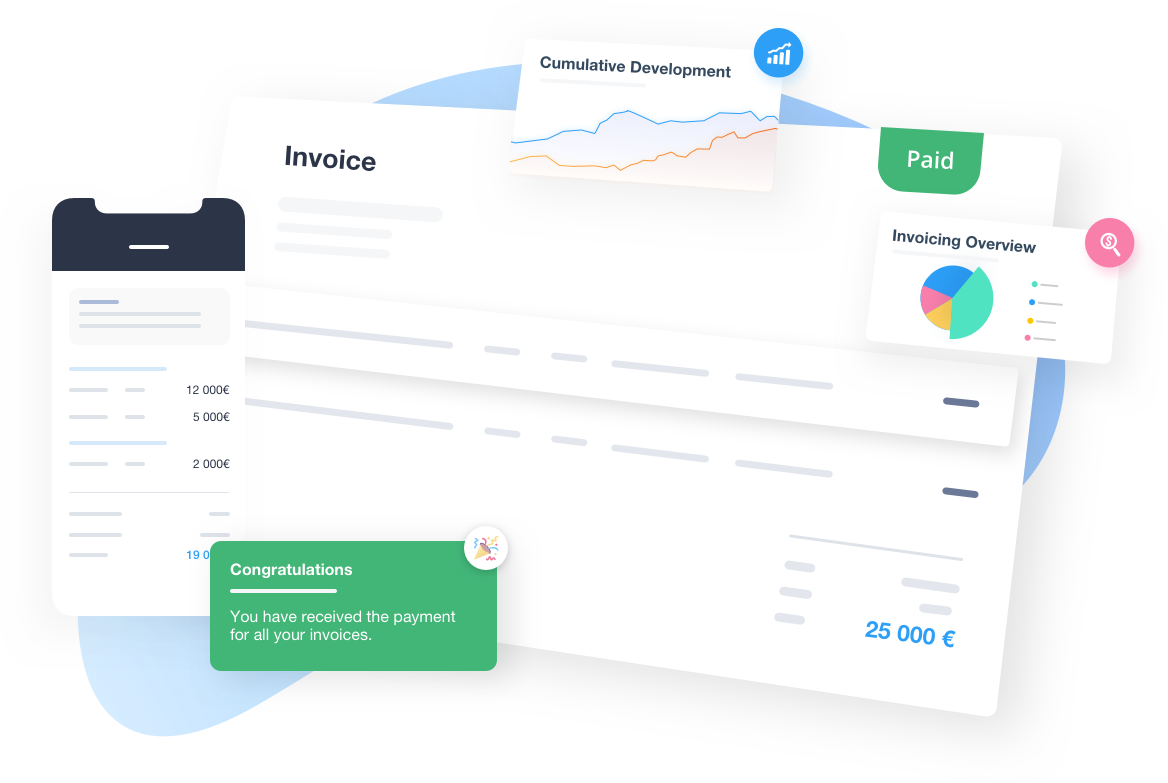 Quotes & Proposals
Create advanced sales quotes
Our advanced CPQ system generates accurate and highly configured sales quotes. Get notified when a client approves or comments on an offer.
Monitor current stock levels
Manage all product information from one place, on any device, even on the go.
Get faster sign-offs, save proposals in PDF format and send them via email.
Professionally customizable sales quotes based on your needs; attach files, your logos, etc.
Time & Expenses
Log and optimize work hours
Taimer's built-in time tracker and other tools offer insights on billable and non-billable hours, actual costs for tracked hours, attendance, and much more.
Manage expenses, approvals, travel expenses, GPS trip log, and mileage.
Plan resources smartly via visual resources like Gantt chart and Grids. Get a total overview of deadlines, workload, resource utilization, and capacity.
Auto-generate invoices from logged hours or add them as expenses to your projects.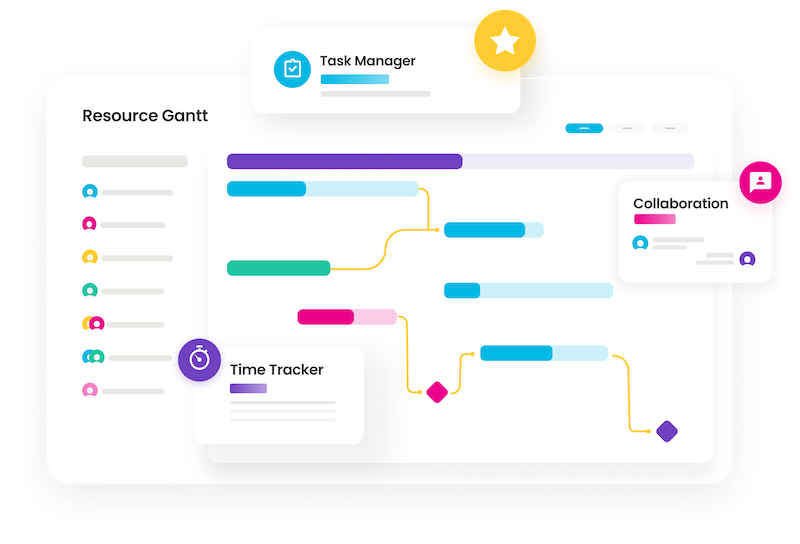 Reports & Dashboards
Generate reports on your invoices, sales quotes, and more with the format bookkeepers love!
Get estimates on your incoming invoices, cash flow, and more!
Real-time dashboards to monitor your sales, invoices, expenses, profit & loss, and more.
Integrations
Expand your experience by natively integrating with sales and accounting software, Hubspot, G-suite, O365, and many more.
Trusted by more than 10,000 users globally
Say goodbye to daunting manual entries and invoice templates. Automate your invoicing process for free to save time and get paid faster.
Our goal was to save time & boost productivity in our business processes. Taimer has met our needs in one simple system.
Creating expenses is easy for employees when the software calculates the amount automatically. Moreover, the company strongly recommends the time tracking feature. It's clear and easy.
Based on our experience, I would highly recommend Taimer to engineering firms like ours, but in principle, it works for any company.
From early to enterprise, we've got you covered. Select a plan to start your 14 days free trial. No credit card required.
50% off 6 months
Business
Tools for growing a businesses
Unlimited
€ 29 / mo / user
€ 19 /

mo / user
€ 35 / mo / user
€ 29 /

mo / user
Free 14 days trial
Eeverything in Growth, plus:

Project Management

Sales Pipeline

MessengerTeam

Permissions

BI Reporting

Add-ons:

Resource Planner

Billing & Purchase Orders
Enterprise
Essential tools for runnig a business
Min. 5 users
€ 39 / mo / user
€ 29 /

mo / user
€ 48 / mo / user
€ 39 /

mo / user
Free 14 days trial
All-in-One:

Sales Management

Project Management

Time Management

Resource Management

Financial Management

Sales invoices, bills, and more in one place.

Expense Management

Collaboration

Reporting

Add-ons:

Multi-company Account
Get started right away
No credit card needed. Get instant access!