Simplify work, sell easier, and get paid faster
Heeros Small Business Software helps sole proprietors and small businesses automate invoicing, quoting, approvals, billing hours and expenses in one unified work management platform.
Send your first invoice in 3 min - Get started for free!
Join the Growth Ride!
Say goodbye to spreadsheets and fragmented tools
and say hello to Heeros Work Management Platform
Automate manual work, unify your sales and invoicing processes, and get complete control of your business finances.
Features Overview
All the features in Heeros Small Business Sofware are integrated seamlessly with one another.
Invoicing
Create and send invoices automatically
You can invoice recurring & scheduled invoices, sales quotes, hours, services, products, and expenses.
Integrated with quotes, hours, and expenses
Track billable hours and expenses and create invoices in seconds. Create invoices from sales quotes in one click.
Send online invoices from anywhere
With Heeros mobile app, invoicing on the go is simple and synced across all your devices. Stay on top of your invoicing and cash flow, no matter where you are.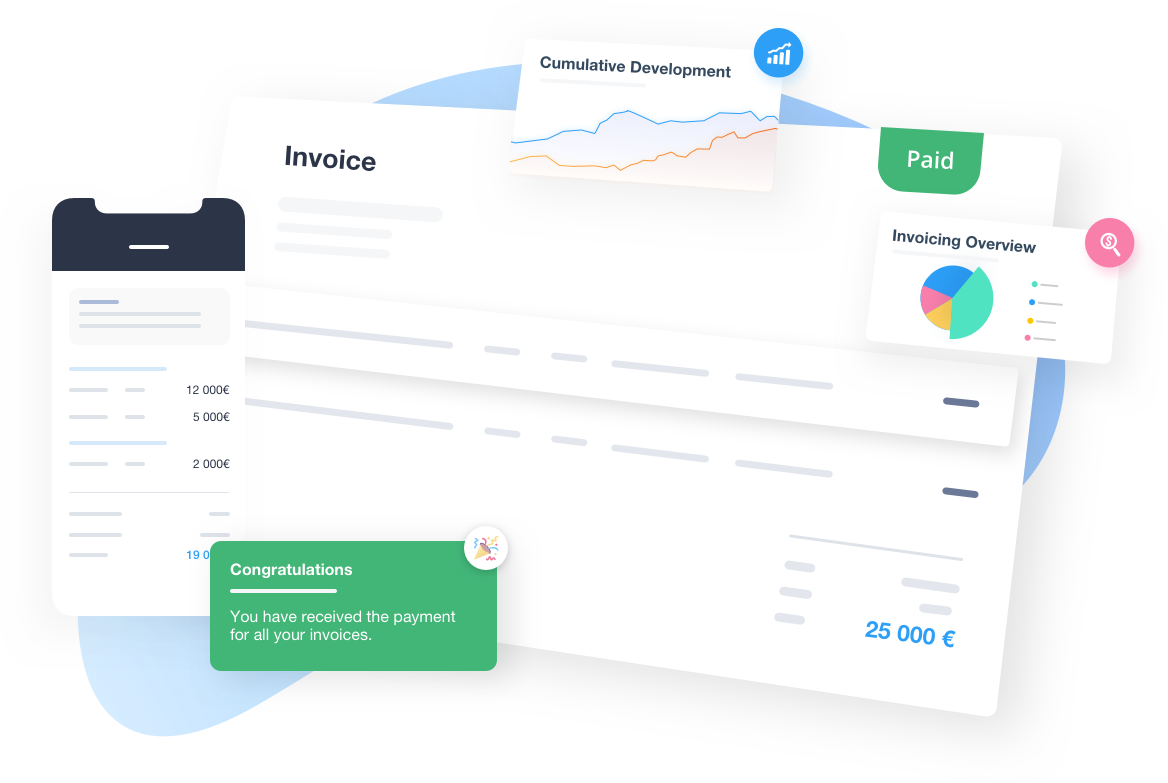 Quotes & Proposals
Create customizable sales quotes & proposals
Custom-tailor your sales quotes & proposals to sell faster and easier.
Get approvals from your clients
Send offers straight from the software to your clients and get approvals in no time.
Automatic invoices
Generate invoices automatically based on your approved offers.
Billable Hours & Expenses
Your time is money!
Heeros automates time tracking, expense management, and invoicing processes, so you can watch your business grow while getting paid faster.
Customize hourly rates
Easily create specific hourly rates for accounts and projects, and make sure you get paid for every logged hour.
Expenses on the go
Simply take a picture of your receipt and upload it for smooth reimbursements on invoices. Powered by easy approvals and automated reports.
Sales Pipeline
Manage leads in Pipeline
Add your leads and monitor their progress across different stages of the sales pipeline.
Schedule sales activities
Follow up on your team's sales activities, get performance reports, and never miss a deadline.
360° visual overview of the sales cycle
Get advanced insights on your entire sales functions, including invoices, hours, and more.
Integrations
Integrate with favourite productivity apps
You can integrate your Google Calendar or Office 365 Calendar with Heeros to manage and view your events and turn them into time entries and activities.
Connect to your accounting software
Sync your accounting software and automatically transfer invoices with the click of a button. Your accountant will love it, no more paperwork!
Send invoices electronically
Send invoices electronically to 3rd party operators.
Reports & Insights
Real-time insights & dashboards
Get control of your business with easy-to-read visualizations of sales, invoicing, costs, and more.
Reports and statements
Get reports for taxation and client reporting. You can easily export reports and share them with other stakeholders.
Profit & loss
Get detailed reports on your projects and business financials, incomes, and costs. Take control of your business finances with ease!
Collaboration
Connect with your clients
Seamlessly get approvals on sales quotes and proposals from your clients. Make sales and collaboration fast, easy, and professional.
Share data with your team
Store and share all data on one unified platform. From memos, activities, and attachments to leads and invoices.
Collaborate on projects
Minimize distractions, maximize collaboration. Give your team a platform to share ideas, plans, and documents straight in the software. No more unnecessary emails and SMSs.
Get started for FREE, pay for what you need and upgrade when your business grows.
Trusted by more than 10,000 users globally
Our goal was to save time & boost productivity in our business processes. Heeros has met our needs in one simple system.
Creating expenses is easy for employees when the software calculates the amount automatically. Moreover, the company strongly recommends the time tracking feature. It's clear and easy.
Based on our experience, I would highly recommend Heeros to engineering firms like ours, but in principle, it works for any company.
Get started for free. No credit card is required.
Right now additional 50 % off for the first 6 months with the code JOINGROWTH
Monthly
Annual
(Save up to 20% if billed annually)
(Save up to 20% if billed annually)
Free
Free invoicing & proposals software
Max. 1 user
Free forever
Plan includes:

Clients (limited to 3)

Sales Quotes & Proposals

Invoicing

Time Tracker & Expenses

Mobile Apps iOS & Android

GCal & O365 Integrations

Help Center

Find answers to your questions from Help Center
Growth
Tools to expand your business
Max. 3 users
19€ / mo / user

Total of 228€ / user is billed annually.
Free 14 days trial
Everything in Free, plus:

Unlimited Clients

Add multiple users

Advanced time tracking

All integrations
Popular
Business
Tools for growing and small businesses
Optimal for up to 10 users
29€ / mo / user

Total of 348€ / user is billed annually.
Free 14 days trial
Everything in Growth, plus:

Project Management

Sales Pipeline

Project messenger

Permissions

BI Reporting

Add-ons

Resource Planner

Billing & Purchase Orders
Get started right away
No credit card needed. Get instant access!